The Amethyst Scottish Dancers of Nova Scotia began as a highland dance troupe that was founded in 1985 and has been entertaining audiences ever since. The Halifax Highland Dancing Association (HHDA) along with the first Artistic Director, Mr. Joseph Wallin, wanted to share their love of Scottish dancing with people in Nova Scotia, through Canada,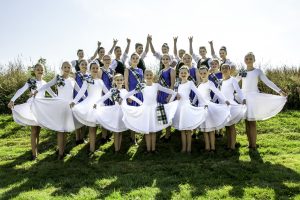 and abroad. A step dance troupe was added to Amethyst in 2006.
Amethyst dancers are highly trained in the art of highland and step dance. They blend Scottish steps and dances with both traditional and modern music and choreography. Dancers ages range between 9-25. We also collaborate and perform with live and local musicians, including Cassie and Maggie MacDonald, Party Boots, Christy Hodder, 78th Highlanders, and the Dartmouth Pipes and Drums.
Performances are our opportunity to share our love of dance and music with a modern and entertaining flair! Amethyst performs at conferences, trade shows, award nights, cruise ships, international tattoos, and many other events, at the local, national, and international levels. Audiences have been entertained in Florida (US), Texas (US),  the United Kingdom, the Netherlands, and as far as Dubai (UAE).
Most recently, Amethyst dancers shared the International Stage at the Canadian National Exhibition (CNE) in Toronto (ON) in August 2016. Visitors fell in love with the vibrant and entertaining Amethyst dancers.
Amethyst Artistic Director and Choreographer
Elizabeth McCorkell is the Artistic Director of Amethyst Scottish Dancers of Nova Scotia. She also instructs the Amethyst Junior and Senior Highland troupes.
Elizabeth has had many years of dance experience as both a Scottish Dance Teachers Alliance Professional Member in both Highland and Scottish Nationals and as a performer with additional experience in Ballet and Step dance. She has danced both competitively and as a member of several Highland dance troupes across Canada and in many other countries including Scotland, France, Belgium, USA, and China. She has had many incredible performance opportunities including international festivals, Tattoos and dancing for Prince Charles and Camilla, Duchess of Cornwall during their most recent visit to Nova Scotia.
Elizabeth is currently the Co-Director of the Royal Nova Scotia International Tattoo's Highland dance team, directs her own dance studio, McCorkell Academy of Highland Dance in Halifax, and plays snare drum with two local Pipes and Drums bands.
Amethyst Step Instructor and Choreographer
Cindy Penney instructs the Amethyst Step dancers and step choreography.
Original Amethyst Artistic Director
Joseph Wallin is the original Artistic Director and Choreographer for the Amethyst Scottish Dancers of Nova Scotia. He is both a teacher and performer of dance. For over 50 years, he has been operating dance schools in Nova Scotia.
He is an internationally renowned choreographer of the Royal Nova Scotia International Tattoo, and has been the choreographer for many stage and television productions, both at home and abroad. He currently serves on the Executive Council of the British Association of Teachers of Dancing.